The 60 Hottest Female Athletes of 2021
f you ask us the female athlete body type is the most attractive of all body types. I am sure this is not a big surprise coming from TheAthleticBuild.com. We have painstakingly researched female athlete after female athlete to come up with the 50 hottest female athletes today.. It was a tough job but someone had to do it.
(Update 4/24/21: While we were the first to come up with a top 50 list of the hottest female athletes others have copied our idea, we are now expanding our list to 60 athletes. I'm sure other sites will copy that as well.)
60 Christen Press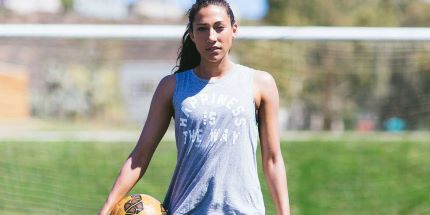 Christen is a striker on the US Women's Soccer Team. She also plays for Manchester United. She played her college soccer at Stanford University and won the 2010 Hermann Trophy for being the nation's top college soccer player.
59 Alysha Newman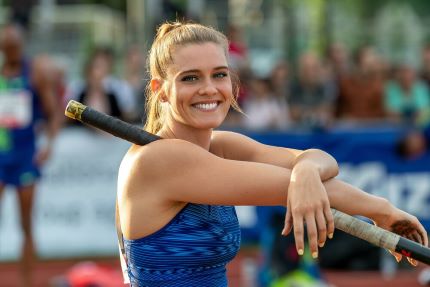 Alysha is a Canadian pole vaulter. She won the gold medal at the Gold Coast Championships in 2018 and set the Games record with a 4.75 meter vault. She also made some news a couple of years back when involved in an altercation with her boyfriend, NFL Linebacker Anthony Chickillo (we've never heard of him either) at a casino in Pennsylvania.
58 Khaddi Sagnia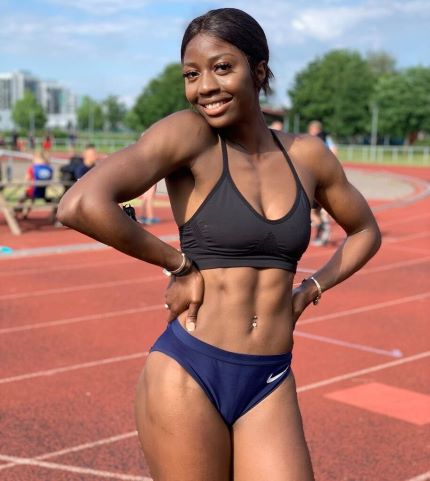 Khaddi is a Swedish track and field athlete that specializes in the long jump along with the triple jump. She won a bronze medal at the 2021 Indoor Championships in Toruń. She is one of 8 children.
57 Winifer Fernandez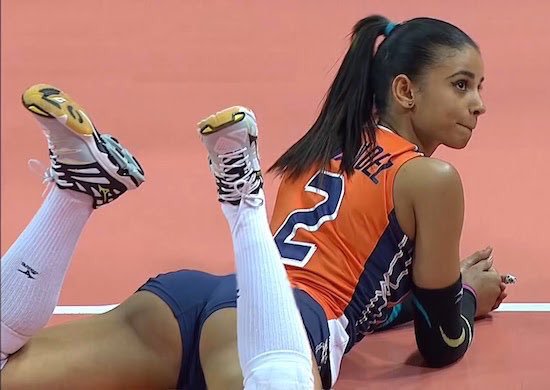 Winifer is a volleyball player for the Dominican national team. She won the hearts of many men during the 2016 Olympics in Brazil.
56 Dorothea Wierer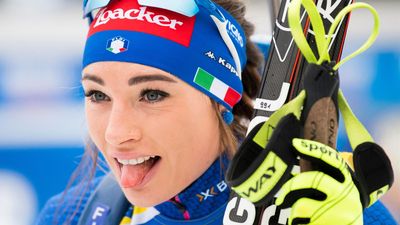 Dorthea is a Canadian biathlete. She won the bronze medal in the mixed relay at the Sochi Olympics in 2014. She has also won too many other medals to list over the years. Needless to say, she is well accomplished.
55 Ganzebe Dibaba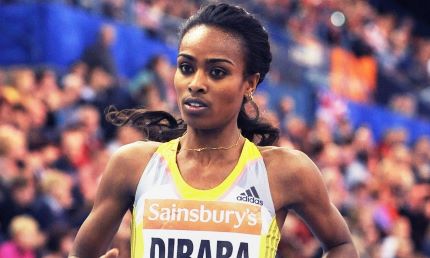 Ganzebe is a long-distance runner from Ethiopia. She was a gold medal winner at the Beijing World Championships and won the silver medal in the London Olympics. She is also the current world record holder for the 1500 meter run with a mind-bending time of 3:50.07.
54 Valerie Loureda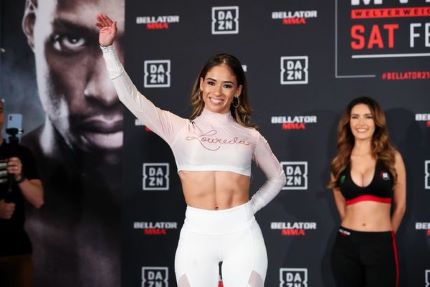 Valerie is an MMA fighter with Bellator in the flyweight division. She fights in the flyweight division and as this is being written has a record of 3-0.
53 Morgan Mitchell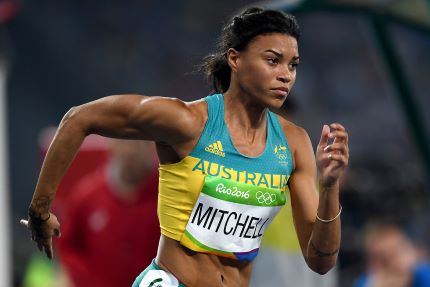 Morgan Mitchell is an Australian Sprinter who specializes in the 400 meters and also competes in the 800. He father is a former professional basketball player.
52 Fanny Stoller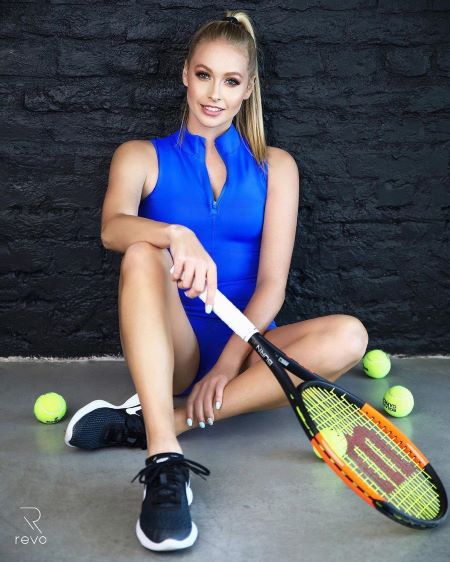 Fanny is a pro tennis player from Hungary. She is more of a doubles player and has won doubles titles with the WTA. She has been playing tennis since she was 3.
51 Megan Anderson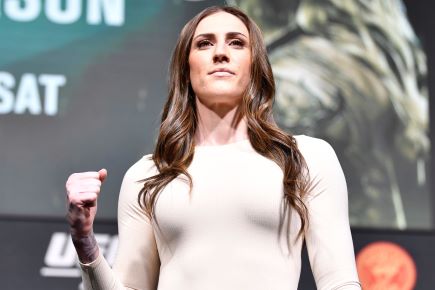 Megan is an Australian MMA Fighter in the UFC in the featherweight division. She has a purple belt in Jui Jitsu and stands at an imposing 6 feet tall.
50 Natasha Hastings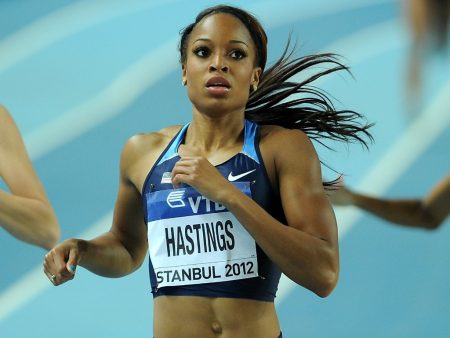 Natasha is a sprinter on Team USA who is a seasoned track veteran. She won a gold medal in the 4×400 meter relay at the 2008 Olympic Games.
49 Camila Giorgi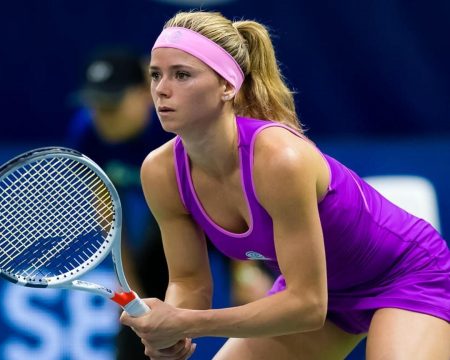 Camila Giorgi is an Italian professional tennis player of Argentinian descent. She won her first WTA title this year and has won 5 singles ITF titles in her career.
48 Jessica "Evil" Eye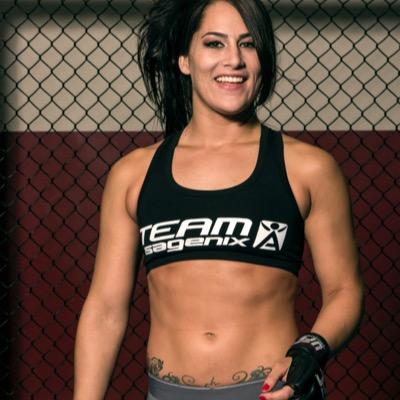 Jessica is an MMA fighter with the UFC. She is considered one of the best female strikers out there and went totally undefeated as an amateur.
47 Avril Mathie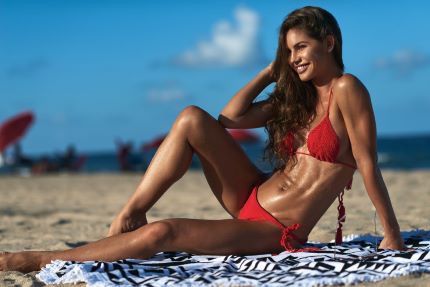 Avril is an Australian/Swiss pro boxer. She started boxing back in 2012 but might be best known for winning the Miss Swimsuit USA International 2014 which is the biggest swimsuit pageant in the world. She currently lives and trains in Miami. Not surprisingly she also does modeling on the side.
46 Hilary Knight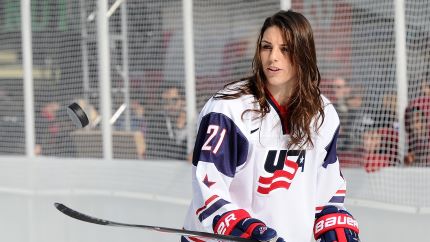 Hilary Knight is a professional hockey player, Olympic Silver Medalist for the USA, MVP of the Canadian Women's Professional hockey league, four-time World Champion and three-time All American in the sport of women's hockey…and she looks good doing it!
45 Leilani Mitchell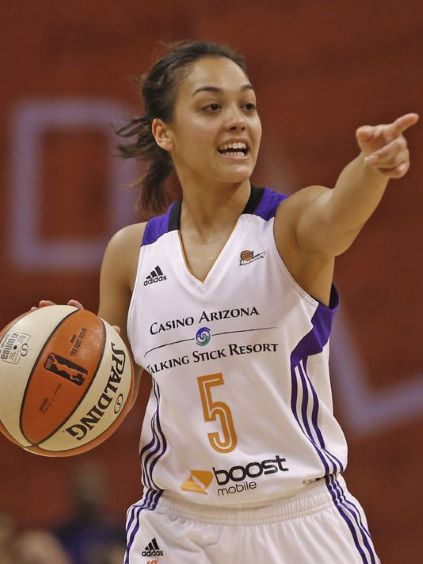 Leilani Mitchell plays for the New York Liberty in the WNBA.
44 Felice Herrig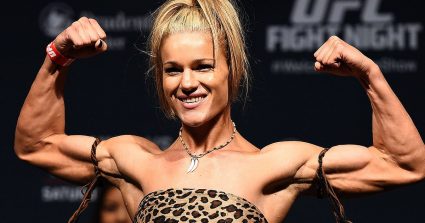 Felice is an MMA fighter with the UFC. She has one of the best bodies in the sport and isn't shy about showing it off either.
43 Voula Papachristou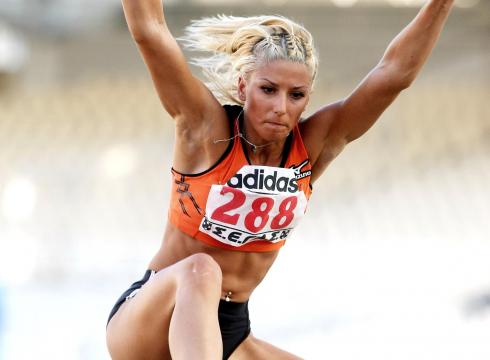 Voula is a Greek triple jumper. She won two gold medals at the European Athletics U23 Championships and represented Greece at the 2011 World Championships in Athletics.
42 Nichelle Prince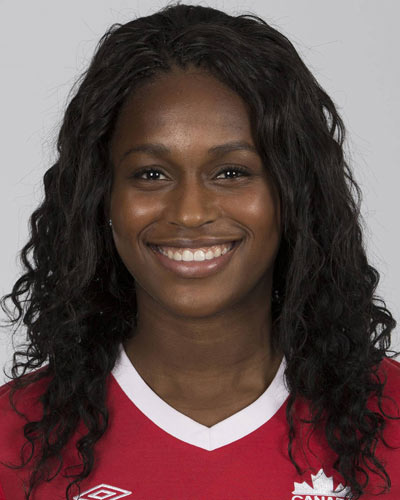 Nichelle is a Canadian soccer player who plays on the Canadian women's team and is their top goal scorer. She also plays for the Houston Dash and played her college soccer at Ohio State University.
41 Serena Williams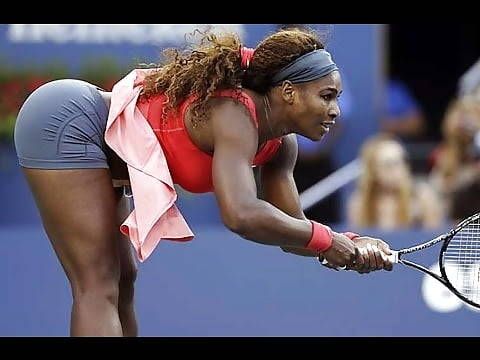 You know who she is, especially if you like booty.
40 Ali Krieger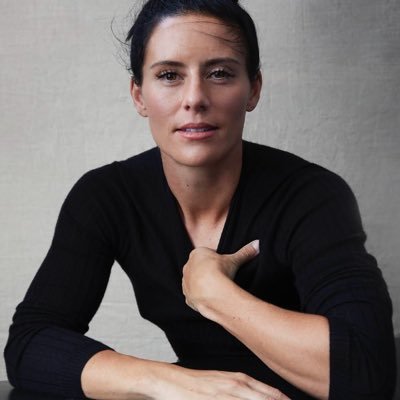 Ali is a US women's soccer player. She is currently playing for the Washington Spirit of the National Women's Soccer League.
39 Julie Ertz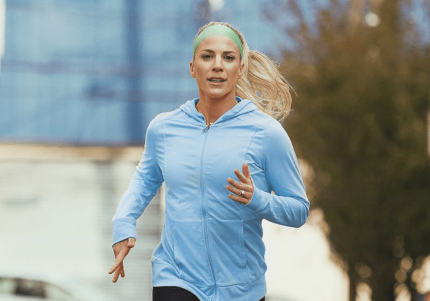 Julie is another member of the US women's soccer team who is very well represented on this list. She also plays defender for the Chicago Red Stars.
38 Elena Delle Donne

Elena Delle Donne is a professional basketball player with the Chicago Sky in the WNBA. She played in college at the University of Delaware, she was a consensus First Team All-American and National Player of the Year candidate in her junior and senior seasons.
37 Sarah Backman
Sarah Backman is a Swedish 8-time world champion arm wrestler. This means she can probably beat you in arm wrestling, with looks like that we doubt you will hold it against her.
36 Silje Norendal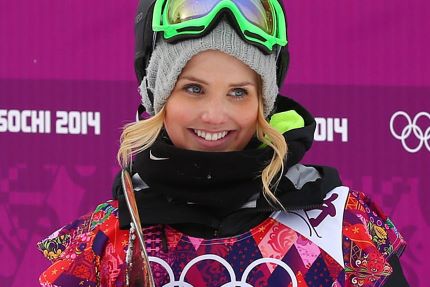 Silje Norendal is a Norwegian snowboarder. She was a gold medalist in the 2013 European X Games.
35 Cheyanne Woods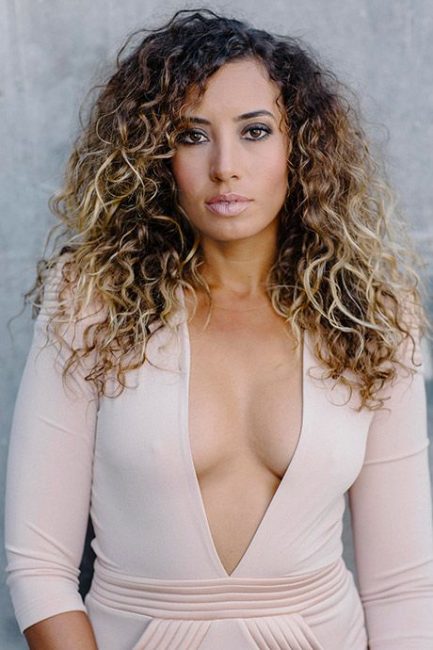 Next up we have pro golfer Cheyenne Woods. She is the niece of Tiger Woods so you know she has golfing in her genes.
At the time this was written she had 2 pro wins in her career.
34 Simone Biles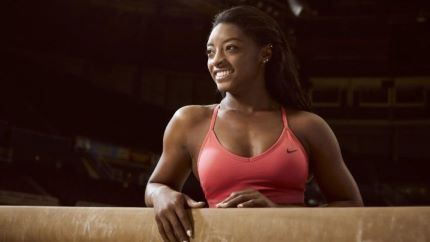 Simone is an American Gymnast who has a combined 30 Olympic and World Championship Medals. She is the most decorated American gymnast and the 3rd most decorated gymnast in the world. Also, her favorite food is Italian.
33 Maryna Bekh-Romanchuk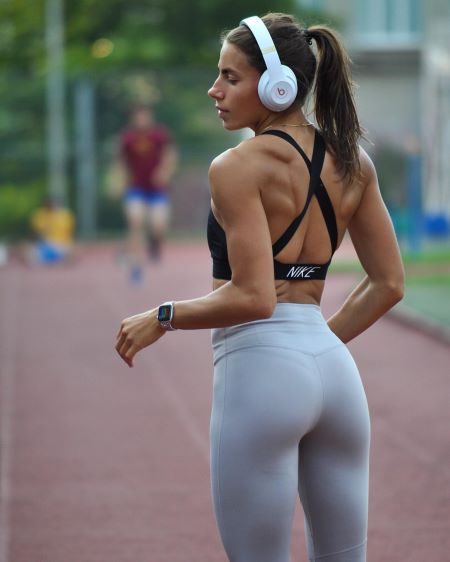 Maryna is a track from Ukraine who performs the long jump. She won a silver medal at the European Championships in Berlin in 2018.
32 Anastasia Ashley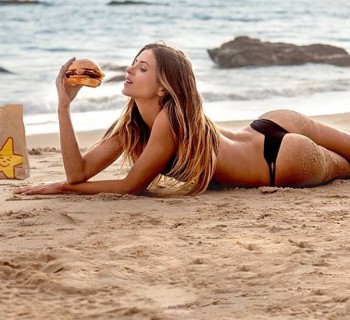 Anastasia is a pro surfer and spokesmodel from Southern California.
31 Kosovare Asllani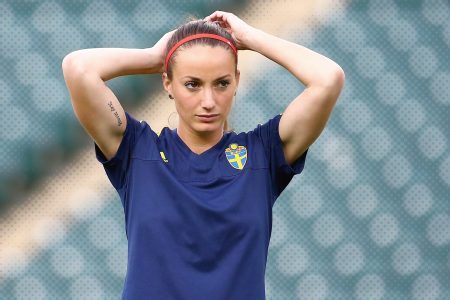 Aslanni is a Swedish soccer player who plays for Sweden's national team. If you watched the 2019 Women's World Cup you would know what a vital role she played in helping Sweden reach the finals.
30 Rachel Daley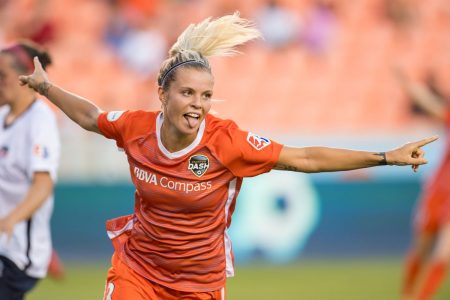 Rachel is a soccer player from England who plays for the Houston Dash. She also plays for England's women's team and is a sponsored athlete with Under Armor.
29 Kaytlin Neil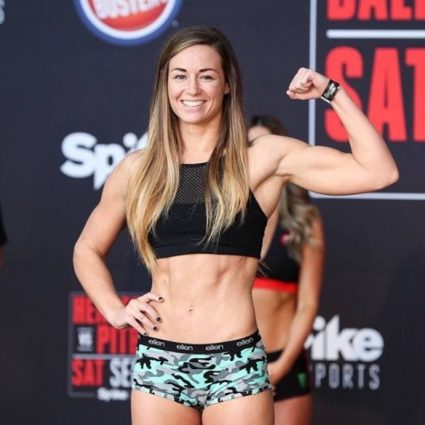 Kaytlin is an MMA fighter with Bellator and is a former competitive cheerleader.
28 Robin Bone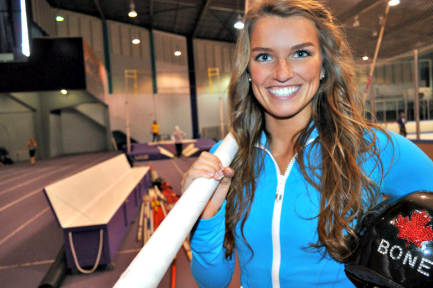 Robin is a Canadian pole vaulter. She wears a helmet while pole vaulting due to her history of having bad concussions that started when she was a gymnast.
27 Darya Klishina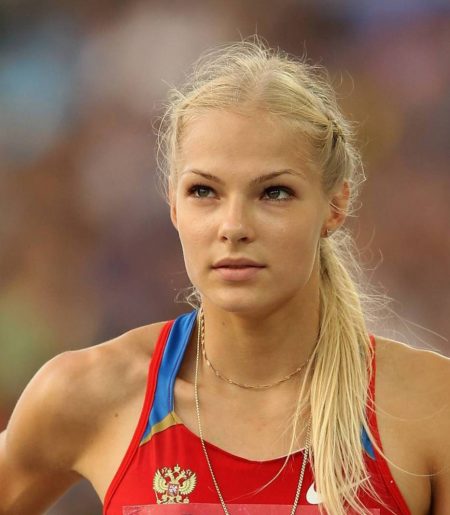 Darya is a Russian long jumper who has won many European Championships over the years and was in the 2016 Olympic games.
25 Antonija Misura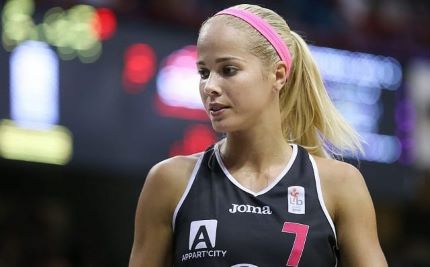 Antonija Misura is a Croatian professional basketball player. Let's face it, she is probably the only reason anyone would watch Croatian women's basketball.
24 Michelle Jenneke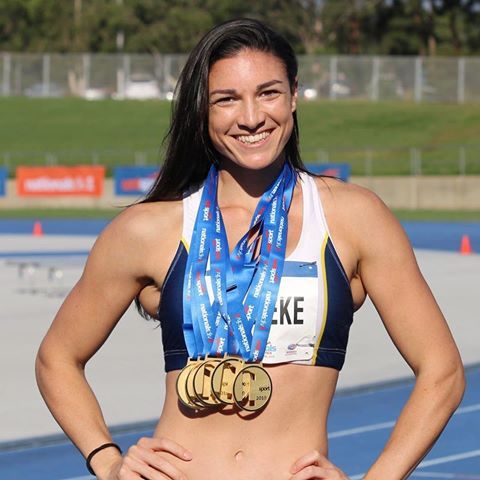 Michelle Jenneke is an Australian hurdler and model, who won a silver medal for the 100 m hurdles at the 2010 Summer Youth Olympics. She is probably known more for her bouncy dance warm-up she does shown here. We actually find the warm-up routine pretty annoying and it makes us want to see her get beat. She is hot though.
23 Alana Blanchard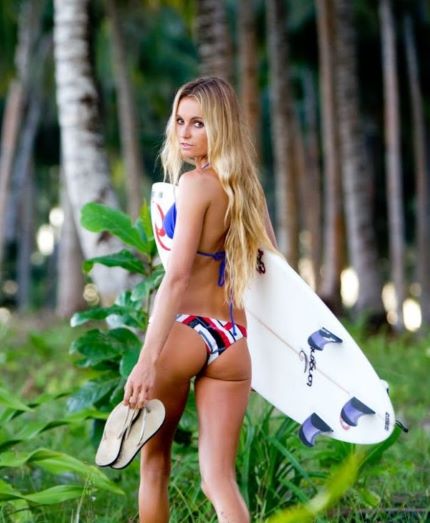 Alana Blanchard is an American professional surfer and occasional bikini model. She surfs on the ASP World Tour.
22 Michelle Waterson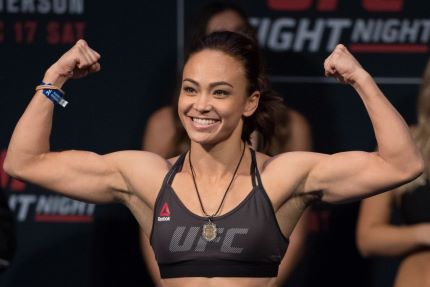 Michelle is an MMA fighter and the Invicta FC Atomweight Champion. Her nickname is "The Karate Hottie". Seems appropriate!
21 Brooke Mayo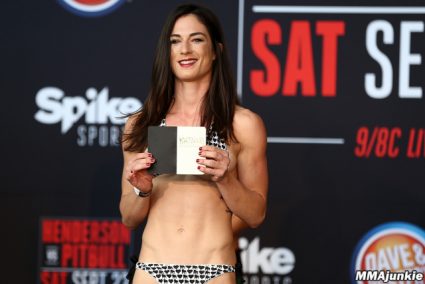 Brooke is an MMA fighter with Bellator. She is a former college soccer player who took up Jiu-Jitsu after an injury ended her soccer career and the rest is history.
20 Sally Fitzgibbons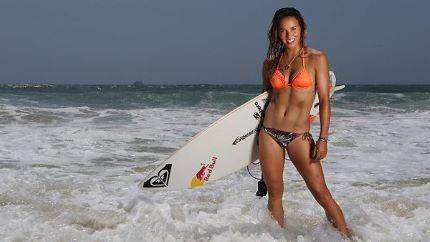 Sally is an Australian Pro Surfer. In 2019 she was the #1 ranked women's surfer in the world.
19 Yuliya Levchenko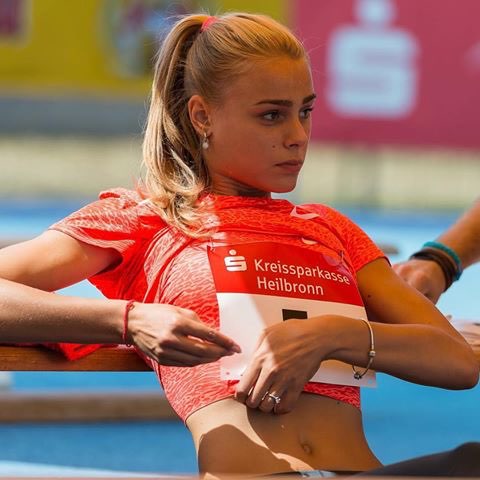 Yuliya is a high jumper from Ukraine. she won a silver medal at the 2017 World Championships. She was also ranked 2nd in the world in 2017.
---
18 Fatima Diame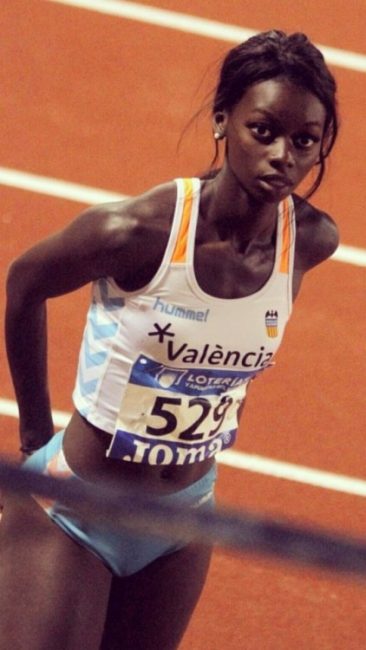 Fatima is a triple jump athlete from Spain. She made it to the 2017 World Championships and won a bronze medal in the long jump at the 2015 Euro Junior Championships.
17 Ivet Lalova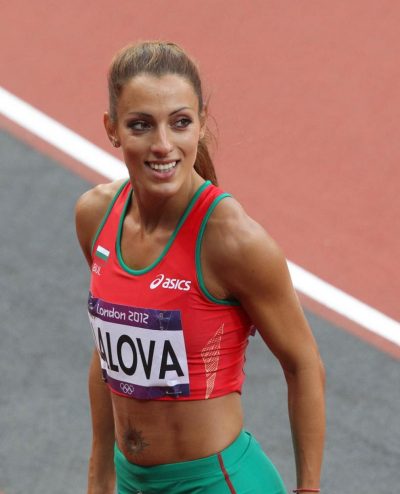 Ivet is a track and field athlete from Bulgaria. She competes in the 100m and 200m sprints. She has appeared in 4 different Olympic games.
16 Ivana Spanovic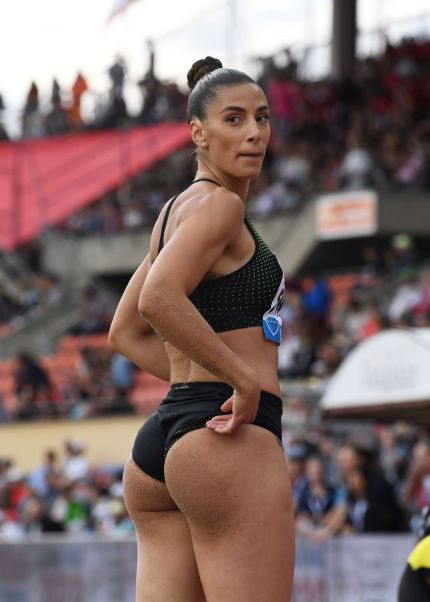 Ivana is a Serbian long jumper who is quite accomplished. She frankly has too many medals to list. She is also a Red Bull and Nike sponsored athlete.
15 Skylar Diggins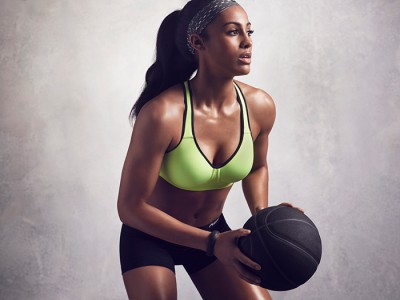 Skylar is a WNBA player on the Tulsa Shock. While in college at Notre Dame she became their all-time leading scorer with 2,357 points.
14 Yulia Emfimova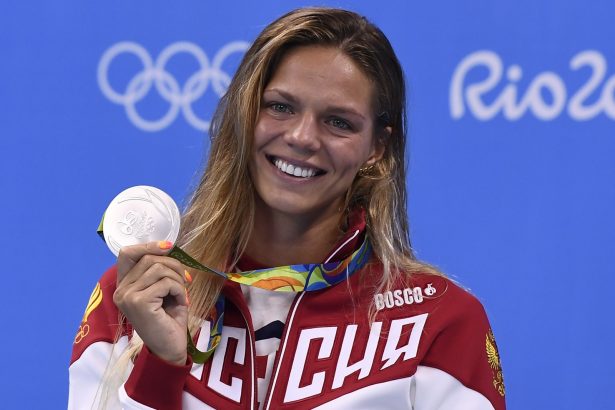 Yulia Emfimova is a swimmer on the Russian National Team. She was surrounded by controversy in the Brazil Summer Olympics over possible blood doping. She has 2 doping offenses on her record but she still denies ever doing it.
13 Alex Morgan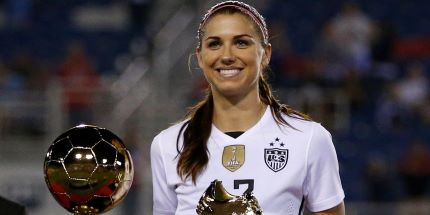 Alex is the forward on the US Women's Soccer Team. She has that athletic, girl-next-door thing going on too.
12 Snezana Rodic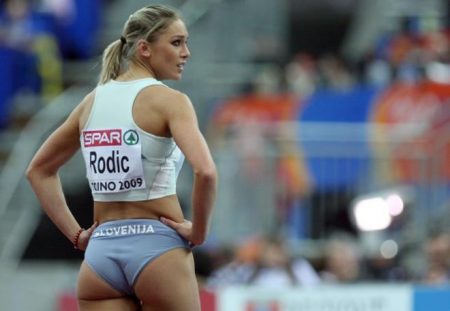 Snezana is a triple jump athlete from Slovenia. She is also married to Slovenian soccer/football player Aleksandar Rodić.
11 Shelina Zadorsky

Shelina plays soccer for the Canadian National Team and was a captain at the University of Michigan.
10 Blair O'Neal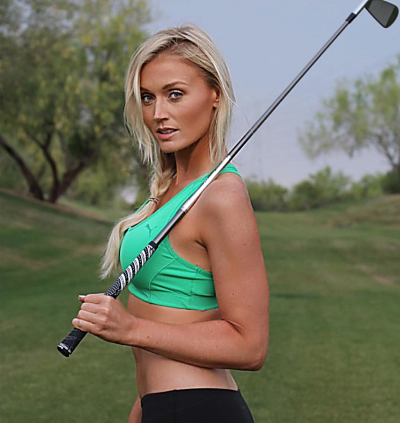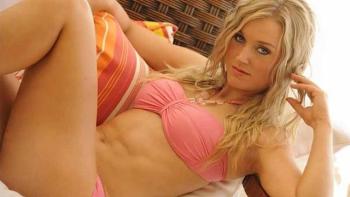 Blair is a professional golfer & model. She also has, by far, the best abs we have ever seen on a golfer.
9 Sierra Blair Coyle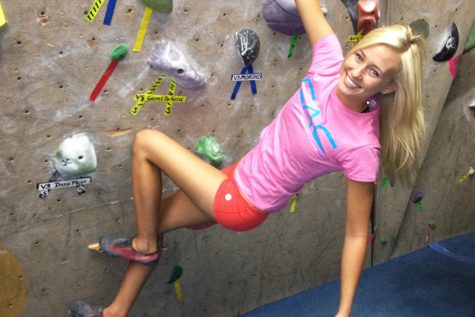 Sierra is a professional rock climber from Scottsdale, Arizona. She travels the world competing as a US Bouldering Team Member.
8 Camille Leblanc Bazinet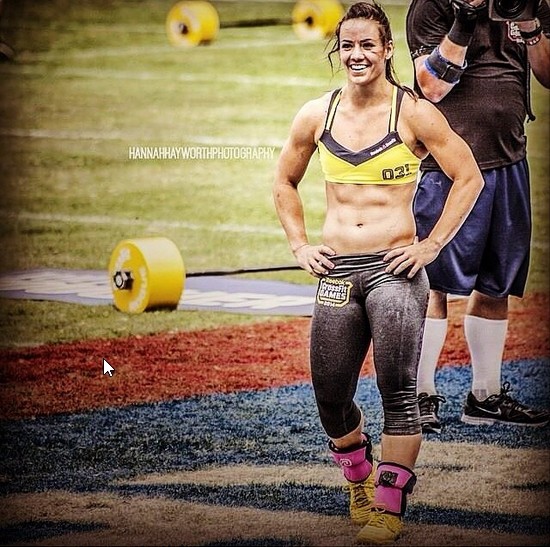 Camille is a Canadian CrossFit athlete and winner of the 2014 CrossFit Games.
7 Eugenie Bouchard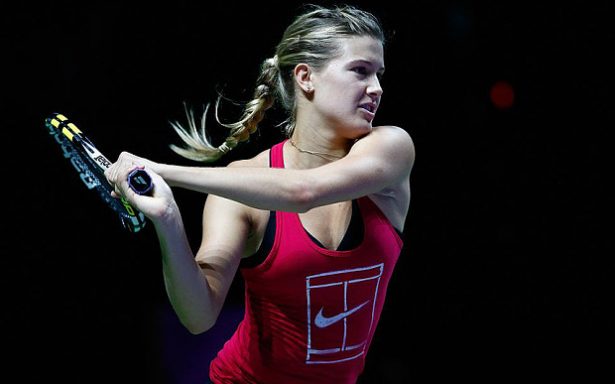 Eugenie Bouchard is a Canadian Tennis player who is currently ranked 24th in the world.
6 Paige VanZant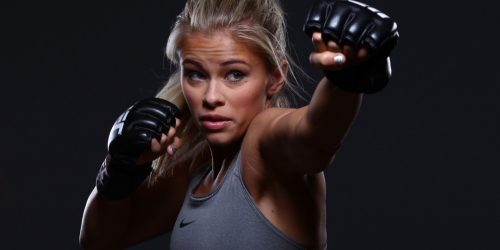 Paige VanZant is the hottest thing going in the UFC (pun intended). She fights in the Strawweight division, she checks in at a mere 115lbs.
5 Jinh Yu Frey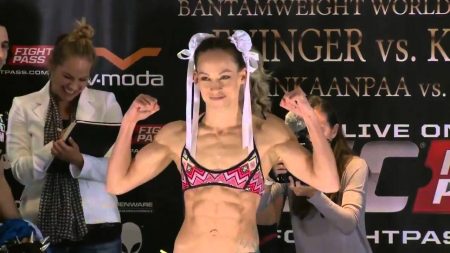 Jihn is an MMA fighter in the Atomweight division and is currently fighting with Invicta FC. She is also a sponsored athlete with Hyper Sportswear and Onnit Nutrition among others.
4 Lieke Klaver
Lieke is a Dutch track and field sprinter. She represented the Netherlands in the 2019 World Championships. She is also an Adidas sponsored athlete.
3 Ivona Dadic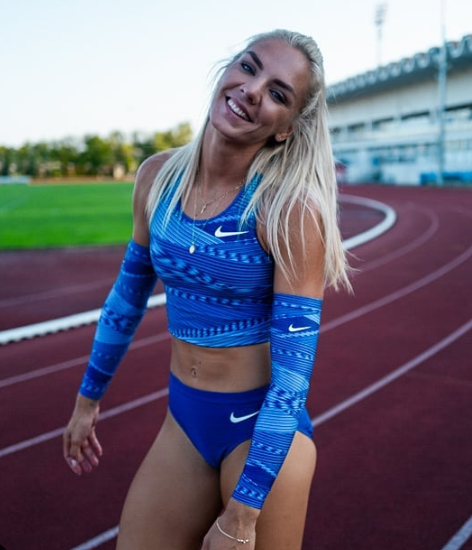 Ivona is an Austrian heptathlete. She competed in both the 2012 and 2016 Olympics and has placed 3nd in the European Championships and 2nd in the European Indoor Championships.
2 Sydney Laroux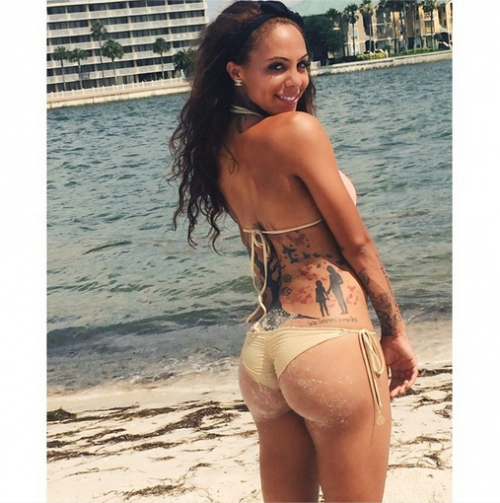 Sydney is the fifth and final member of the US Women's Soccer Team to make this list and we saved the best for last. She is an Olympic gold medalist. As a forward, she currently plays for the Seattle Reign FC in the National Women's Soccer League.
1 Paige Spiranac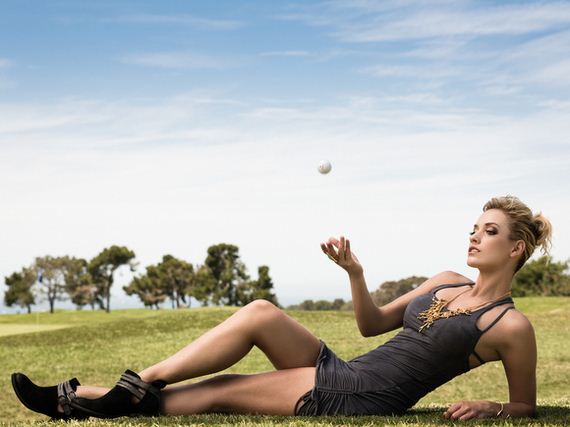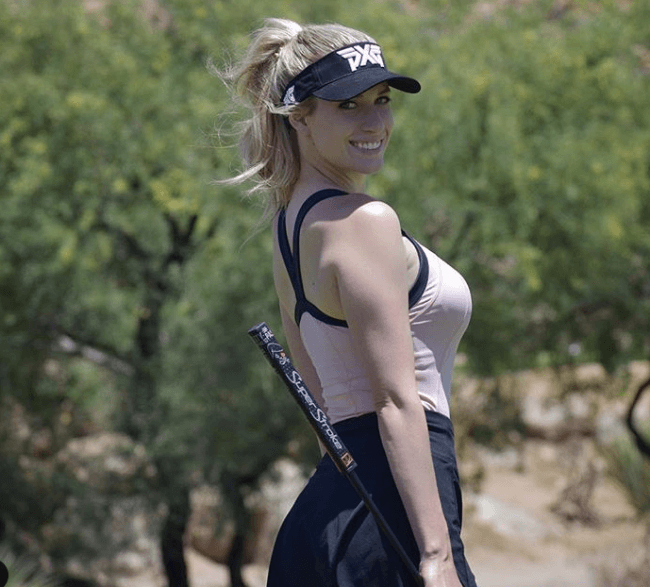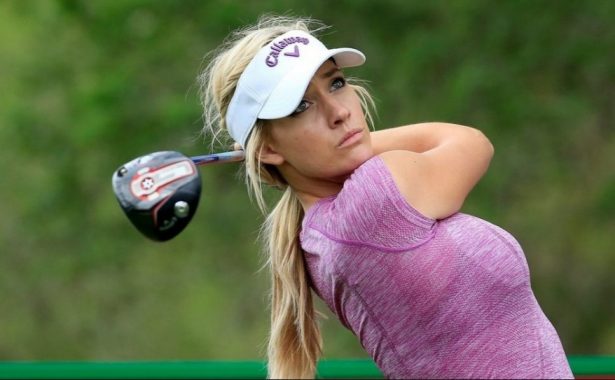 Paige is a pro golfer who is known for her Instagram account as much as her golf game. She has recently taken a break from her Instagram to focus on golf, we hope she returns soon. She is our number one, and a great reason to start watching golf!
Let us know who we missed on this list, we update this list frequently and sometimes use your suggestions, occasionally they're actually good.