TOP 25 Hottest Female Track and Field Athletes
Being a top track athlete requires a lot of work and incredible dedication. You have to train hard, eat like an athlete and put in a lot of time. The results are worth it though.
Track athletes aren't only in great shape but they look great too. This is why we decided we needed to find the best of the best or hottest of the hot from all over the world.
We scoured the Internet for the hottest female track athletes and have put together this list of impressive athletes that should be easy for you to look at.
Here are the hottest female track and field athletes in the world today:
#25 Lolo Jones
Lolo Jones has been around for what seems like forever and she is still killing it. Not only is she a USA track athlete in the 60 and 100-meter hurdles, she is also a member of the USA bobsled team where she puts her sprinter speed to good use.
Related: The 30 Hottest Female Soccer Players
#24 Colleen Quigly
Colleen is a middle distance runner from the USA who specializes in the 3,000-meter Steeplechase. She took 8th place in that event at the 2016 Olympic games in Rio. Not surprisingly she also does some modeling when she isn't training.
#23 Ana Cláudia Lemos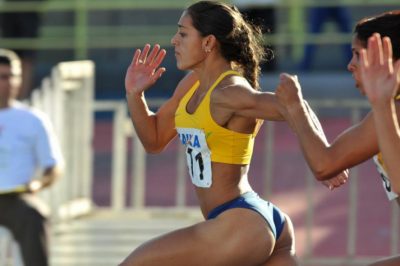 Ana is a Brazilian track and field sprinter who once held the South American record for the 100m and is the current record holder in the 200m with a time of 22.48 seconds. She is also on the 4 x 100 relay team.
#22 Dafne Schippers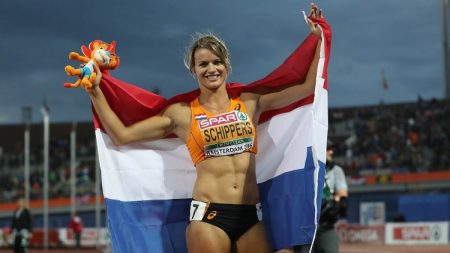 Daphne is Dutch sprinter who has also competed in the heptathlon. She won a silver medal in the 200-meter dash at the 2016 Olympics in Rio and also won the 2015 and 2017 World Championships. Not too shabby.
#21 Nikoleta Kyriakopoulou

Nikoleta is the first of many pole vaulters that will be featured on this list. Not sure what it is about the pole vault but there are so many good looking pole vaulters out there we might have to make another list featuring just pole vaulters. Nikoleta is a Greek pole vaulter who won a bronze medal at the 2015 World Championships in Beijing. She is also the most muscular on the list and if for some reason all the women in the list were to have a giant bar fight with each other our money would be on Nikoleta to be the last woman standing.
#20 Chantae Mcmillan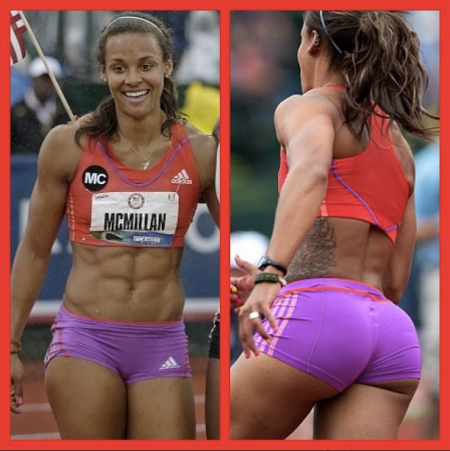 Chantae is a track athlete from the USA who specializes in the heptathlon. She qualified and participated in the 2012 Olympics in London and just missed qualifying for the 2016 Olympic games. She went to college at the University of Nebraska and is the most accomplished heptathlete in that school's history.
#19 Emma Coburn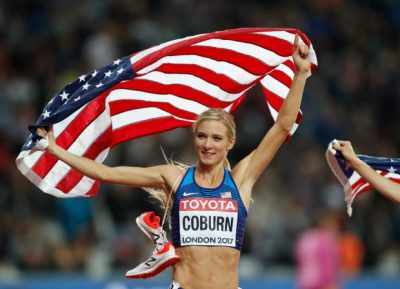 Emma runs for the United States and specializes in the 3000m Steeplechase. She won a bronze in this even in the 2016 Olympics and took first place in that event at the 2017 World Championships.
#18 Angelica Bengtsson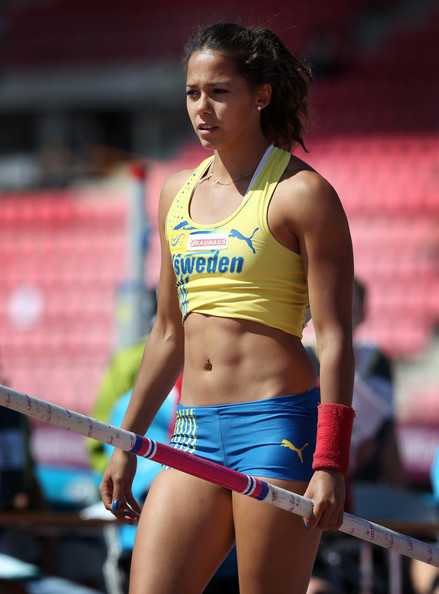 Angelica is a Swedish track athlete and is another athlete that does the pole vault. She is currently the Swedish indoor record holder with a vault of 4.70 m.
Related: The 50 Hottest Female Athletes
#17 Nadine Broersen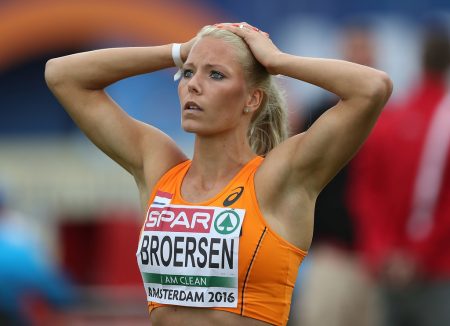 This list also features quite a few heptathletes, here is another. Nadine is a Dutch heptathlete. She competed in both the 2012 and 2016 Olympics where she finished 13th in both appearances.
#16 Anicka Newell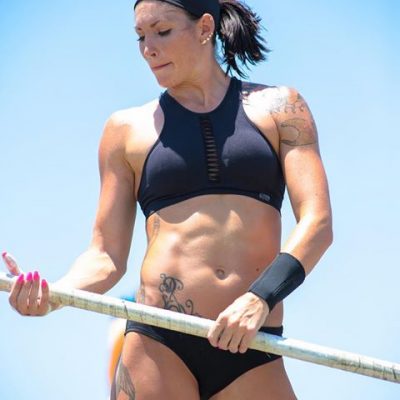 Anicka is a Canadian pole vaulter. She is actually from the United States and went to college at Texas State University. We aren't sure how she ended up in Canada but she now lives there and qualified for the 2016 Olympics as part of the Canadian team.
#15 Maria Andrejczyk

Maria is a Polish track athlete that competes in the javelin. She is the 2015 European Junior Champion. She also took 4th in the 2016 Olympics in Rio.
#14 Queen Harrison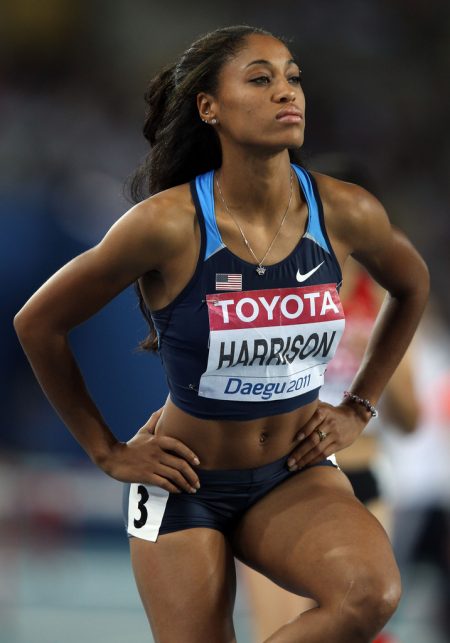 Queen is a hurdler and sprinter for the United States. She went to the Olympics in 2008 for the 400m hurdles. She also won the 2010 NCAA Outdoor 100m and 400m hurdles becoming the first women to win both in the same year.
#13 Allyson Felix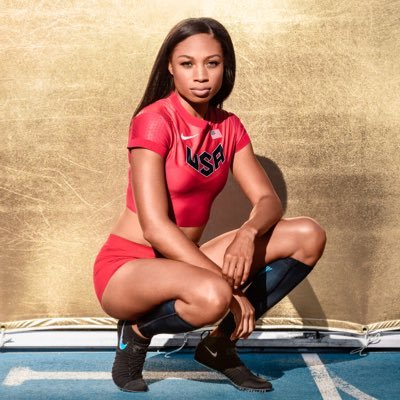 Allyson Felix is a track athlete for the USA. She is easily the most decorated athletes on this list with 6 Olympic gold medals and is tied as the most decorated female Olympian in track and field history, with a total of nine Olympic medals.
#12 Sandi Morris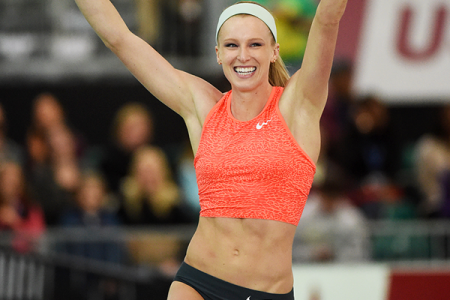 Sandi is a pole vaulter for the United States. She won a silver medal in the pole vault at the 2016 Olympics and is the current outdoor world record holder. She is also an animal and a jeep lover.
#11 Jirina Ptacnikova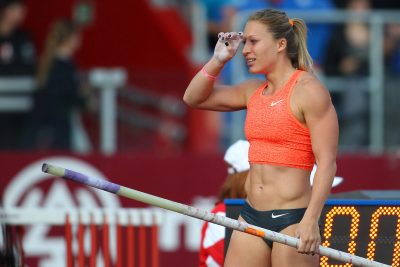 Jirina Ptacnikova is a pole vaulter for the Czech Republic. She won the European Championships in 2012 and competed in both the 2012 and 2016 Olympics. She also set the Czech pole vault record in 2014, not too shabby.
#10 Michelle Jenneke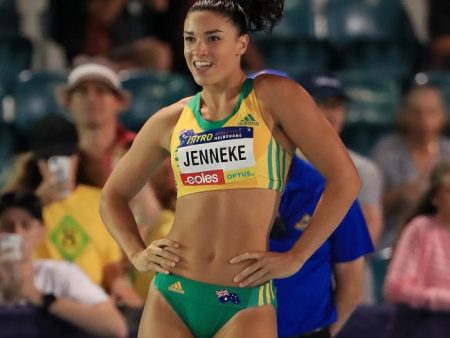 Michelle is an Australian hurdler and model. She participated in the 2016 Olympics finishing 37th. She is also a Sydney University engineering student.
#9 Darya Klishina

Darya is a Russian long jumper. She has won may gold medals over the years at the European indoor, outdoor and youth championships. She was also 9th at the 2016 Olympics in the long jump.
Related:
Top 5 Testosterone Boosting Supplements
#8 Paraskevi "Voula" Papachristou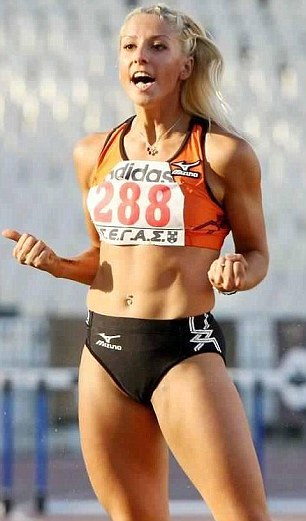 Paraskevi is a Greek track athlete who does both the triple jump and the long jump. She is a 2-time European champion and took 8th place at the 2016 Olympic Games. She was expelled from the 2012 Olympic team after making a racist tweet which was a bit of a controversy at the time.
#7 Maryna Bekh-Romanchuk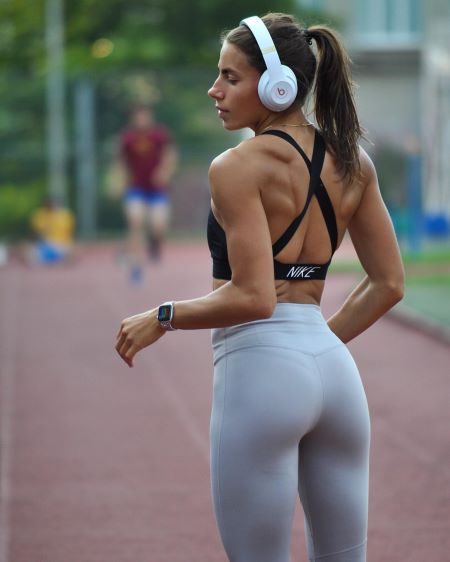 Maryna is a track and field athlete from Ukraine who does the long jump. Her career highlight to this point is a silver medal at the 2018 European Championships in Berlin.
#6 Natasha Hastings

Natasha is a sprinter for the US team. She is a track and field veteran with many championships, her most notable would be an Olympic gold medal in the 4×400 meter relay. She is also an Under Armour and NYAC sponsored athlete.
#5 Robin Bone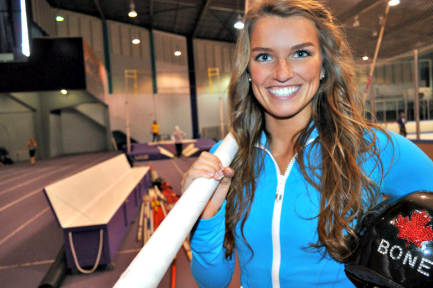 Robin is a Canadian pole vaulter and Olympic hopeful. Her first love was gymnastics but she had to give it up after suffering multiple concussions. She then took up the pole vault instead and wears a helmet when she vaults to protect her from future concussions.
#4 Ivet Lalova
Ivet is a Bulgarian track athlete who specializes in the 100m and 200m sprint. She has appeared in 4 different Olympic games and took first place in the European championships in the 100m sprint in 2012. She is also married to Italian sprinter Simone Collio.
#3 Fatima Diame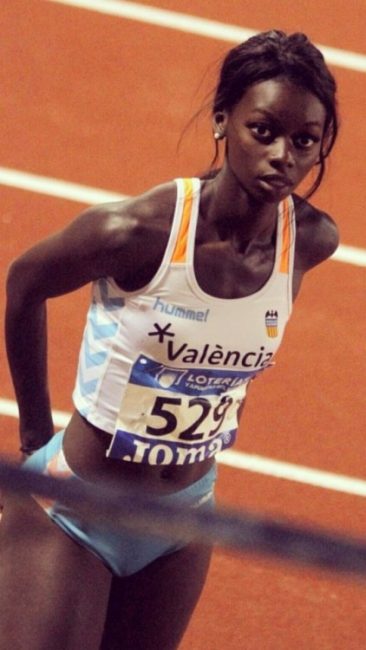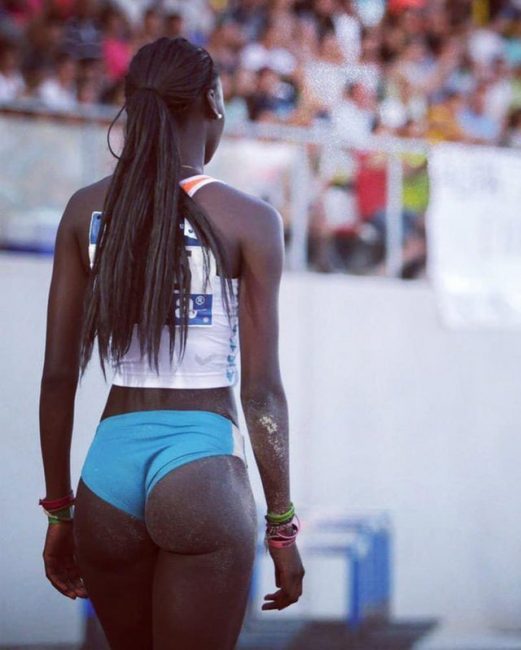 Fátima Diame is a Spanish athlete who specializes in the triple jump. She made it to the 2017 World Championships without reaching the final. She won a bronze medal in the long jump at the 2015 Euro Junior Championships
#2 Snezana Rodic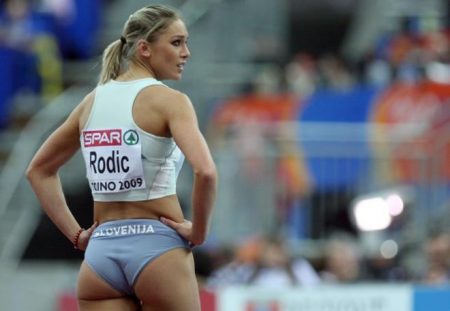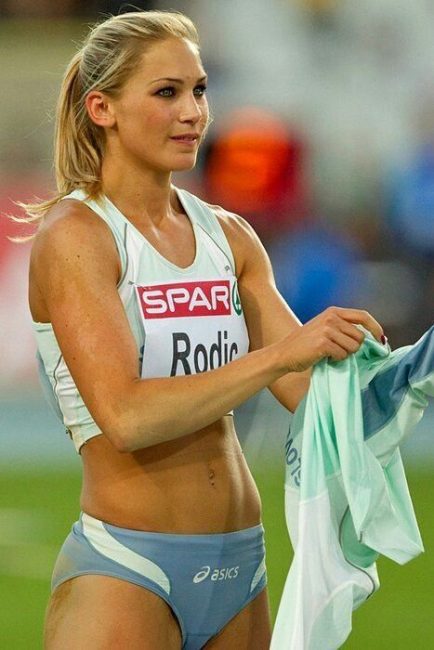 Snezana is a Slovenian track athlete who specializes in the triple jump. She is married to Slovenian soccer/football player Aleksandar Rodić.
#1 Ivona Dadic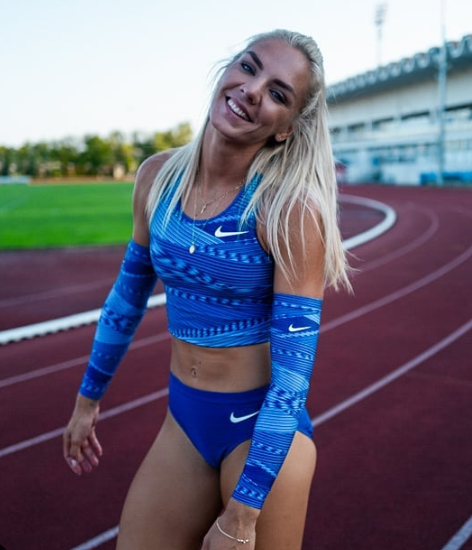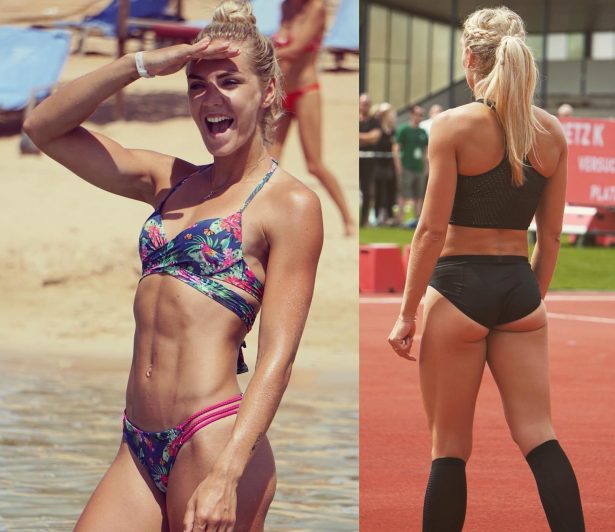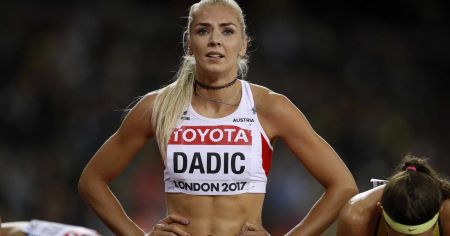 Topping off our list we have Ivona Dadic, an Austrian who is yet another heptathlete on our list.
Ivona competed in both the 2012 and 2016 Olympics and has placed 3nd in the European Championships and 2nd in the European Indoor Championships.
Wrapping Things Up
There you have the 25 hottest females of track and field. The list is dominated by pole vaulters, heptathletes and sprinters. In fact, there are so many pole vaulters are thinking about making a list just for them. There are many that aren't listed here that are certainly worthy.
Let us know how we did and if we missed anyone in the comment section below, we will update the list periodically and will use some of your suggestions if they are worthy.